For A Chlorine And Scale-Free Environment
Crystalwater Enviro Technologies are the experts in water treatment and purification. They are authorised dealers for advanced products from CLEARWATER ENVIRO TECHNOLOGIES INC including the Scaleblaster range of electronic de-scalers and the Clearwater range of ionisation systems.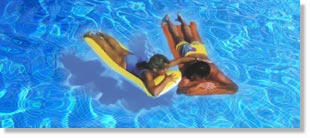 SCALEBLASTER for Scale Removal and Descaling
Install a SCALEBLASTER electronic Descaler from Crystalwater Enviro Technologies and solve hard water problems with an Electronic Water Conditioner and De-scaler. Scaleblaster is the maintenance and chemical-free alternative to removing hard water and lime scale problems.
Click here to read more about our Scaleblaster electronic scale removal systems.

---
CRYSTALWATER PURIFIERS for Pool Water Purification
Install an advanced CRYSTALWATER Ioniisation Purification system from Crystalwater Enviro Technologies and
Enjoy Chlorine Free Swimming in Pure Sparkling Water!
Stop Using Harsh Chemicals in Your Pool!
By using safe, pure, natural minerals as the purifying agents, a CRYSTALWATER purification system can be applied to any size swimming pool or spa. The CRYSTALWATER advanced technology uses a pair of scientifically formulated electrodes comprised of copper and silver which release ions into the water.
The Copper ions kill algae and the Silver ions kill bacteria and viruses.
Click here to read more about our CRYSTALWATER ionising purification systems.

---
OTHER WATER TREATMENT PRODUCTS
Colloidal Silver Generator for Reverse Osmosis Systems....... The Mineral Pure™ Natural Water Purification System
Click here to read more about the most technologically advanced system ever developed in the water purification industry.

For more information on the Crystalwater Enviro Technology water treatment and purification products, please contact Eric Hvass on Ph: (07) 3277 2303.